Bill to:
PO Box 966/967
Andalusia, Alabama
36420 USA
info@hendersonsewing.com
Ship to:
1 Waits Drive Industrial Park
Andalusia, Alabama
36421 USA
Toll Free Numbers:
800-824-5113
800-932-0507
International Number:
334-222-2451
International Fax:
334-222-4085
334-222-3738
334-222-7627

Toll Free Fax:
800-511-3935
800-239-8398

AUTOMATION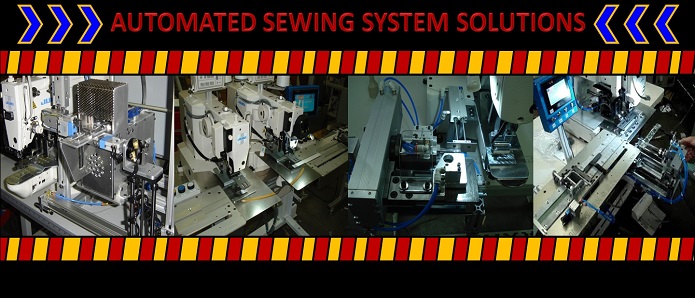 Automated systems are robotic sewing machine (automated sewing machine components) components that are designed to save our customers time and money. They increase speed and efficiency. They reduce errors and waste. They do not grow tired. They do not need breaks. They work on time every time.
These automated systems are the product of our world class design and engineering team. These systems represent the dedication to service and quality you've come to expect from Henderson Sewing and if you have not yet allowed us to serve you they represent why you should. A world class design team and a dedication to service that's second to none.
For ordering information ask for Frank, Bruce, Marty, Alan or Jack at
1-800-824-5113 (email: Frank, Bruce, Marty, Allen, or Jack).

***Click on one of the buttons below to view an automated system or simply continue scrolling down.
| | | |
| --- | --- | --- |
| AUTOMATED SYSTEMS IMAGES AND VIDEOS & PRODUCT IMAGES | | |
| | | |
| --- | --- | --- |
| AUTO FOLD RANK PATCH | | |
AUTO FOLD NAME TAPE

The name tape is automatically folded and placed in the clamp on top of hook and loop fastener material which is also auto loaded into the clamp from the side. It is then tacked to create the finished name tape.
TWO SEWING HEADS

The two sewing heads with auto-hook and look feeders loading simultaneously. Left feeder loads 1" x 1" hook tape. Right feeder loads 12" loop tape

ZIG ZAG RETRACTABLE CLAMP

****MADE ONLY AT HENDERSON SEWING****
| | | |
| --- | --- | --- |
| | | IFF, IDENTIFY FRIEND OR FOE COVER TAB |
| | | |
| --- | --- | --- |
| Henderson Profile Stitcher | | |
ZIGZAG HOOK & LOOPER, TOP & BOTTOM